Sunpro Rewards New Zealand Schedule & Activities
March 21-31, 2023
DAY 1: WELCOME TO NEW ZEALAND
Arrival and Welcome Dinner
This evening, guests will be asked to gather for a welcome reception in the Living Room, opening onto the deck area. The best of New Zealand will be showcased with hors d'oeuvres.
Following the welcome and the reception, guests will move to the lodge's dining room for a seated dinner. The menu will feature fantastic local produce and seafood, as well as the best of New Zealand lamb and beef.
Excursion Options – Kauri Cliffs Area, March 24-25
---
Bay of Island Cultural and History Tour
The Bay of Islands is one of the finest cruising grounds in the world. You will board a private chartered 75 ft motor yacht to explore Northland's pristine coastline, featuring historical and scenic highlights of the Bay. Dolphins and Orca are regulars in these waters. Explore the islands and bays with a professional skipper who will share stories of European settlers, Maori warriors, and wildlife, or choose to simply sit back and relax as you cruise. Transfer 50 minutes to Waitangi, & drive time between stops 20-50 minutes
---
Land Based Fishing
Join local guides at one of the beaches on the property and test your skill at hooking a snapper or kahawai (similar to a blue fish). Bring your catch back to the lodge and our chef will prepare it for your dinner.
---
Horseback Riding
After a comprehensive riding and safety briefing, you will saddle up and set off on a spectacular ride through Doonholme Farm; an 800-acre working deer farm. Trek across the tussock-covered hills of Moonlight Country, and ride amongst the animals, including grazing elk and rare white fallow deer. Enjoy amazing alpine views of the Remarkables and Coronet Peak ski areas. The views are sure to take your breath away.
---
Kayaking
Discover the coastal flora and fauna that makes this one of the most scenic regions in the world as you paddle and learn about the tribal and European settlement of the region. If you're lucky you might even have the chance to encounter dolphins or spot little blue penguins/ kororā during your voyage. Refuel at the unpopulated Little Waiaua Bay with a gourmet picnic lunch and wines to match, then continue your paddle on the Pacific Ocean or dive under and discover the marine life by snorkeling the sheltered kelp reefs.
---
Golfing Kauri Cliffs Golf Course (on-site)
The par 72 championship golf course offers five sets of tees to challenge every skill level. Kauri Cliffs is currently ranked 37 in the world by Golf Digest and includes a world class practice range, putting and chipping greens, and a well-stocked golf shop. Premium ladies and men's rental clubs are available.
---
The Spa at Kauri Cliffs
We invite you to relax and rejuvenate with our Manuka Scrub and Massage, a signature treatment from The Spa at Kauri Cliffs. Featuring world-renowned manuka honey, made locally by our artisan producer, enjoy a gentle body polish with ground walnut and honey that stimulates and rejuvenates skin.
---
Heritage and Culture Tour
With an extraordinary location and truly special history, the Kauri Cliffs Guided Heritage Discovery tour will give you unparalleled insight into New Zealand's complex identity. Journey through time as your guide unravels a rich tapestry of history and culture, from the resting place of one of the indigenous Maori's original seven migratory waka, to the arrival of Captain James Cook at Waiaua Bat, and the generations of the pioneer families that followed.
---
Surfing
Surf some of New Zealand's most beautiful untouched scenery including Kauri Cliffs. It is as though nature designed the Northland coastline with surfers in mind. Tiny coves, long sandy beaches, river mouths, point breaks, sandbars and reefs, all within a short drive. Enjoy a two-hour beginner's lesson at Kauri Cliffs or an all-day Surf-safari of Northland beaches.
---
Day 4 – Transfer to Queenstown
Queenstown- Millbrook
In Queenstown, guests can push their personal limits on the year-round adventure activities which Queenstown is famous for bungy jumping, jet boating, rafting, or nature excursions. For a more relaxed stay, guests can enjoy backcountry 4WD trips, Milford Sound excursions, guided walks and hikes, and golf and spa treatments. Not to miss are the retail therapy and numerous award-winning cafés and restaurants located in the town center which is only one square kilometer (0.62 miles) in size – making this city and many of its attractions easy to access by foot.
The average temperature ranges from 42 degrees for a low and 64 degrees for a high.
Excursion Options – Millbrook Queenstown, March 27-29
---
Milford Sound Fly/Cruise (March 27 & 28)
You will embark on a sightseeing excursion by small aircraft for what is rightly acclaimed as "the most magnificent flight in the world." This flight provides breathtaking views of the mountains, lakes, forests, and fiords of the Fiordland National Park. With hanging valleys, lakes spilling over cliffs into waterfalls, and vast native forests, this is a panoramic wonderland Milford Sound has often been referred to as the "Eighth Wonder of the World." Flying time is 30 to 40 minutes.
At Milford Sound, you'll board a 2-hour cruise on the sounds. Here, you will view some of the most talked about scenery in the world, including mile-high Mitre Peak, the aptly named focal point of the majestic Milford Sound. On board the cruise, a full commentary providing fascinating facts about the local history, flora, and fauna will be given.
---
Shotover Jet Boat (March 27)
One of the foremost icons of Queenstown, this is a "must do" for every visitor to Queenstown. The Shotover Jet excursion is an exhilarating and exciting 25-minute jet boating trip. A full-length spray jacket is provided to protect you from the spray of the 360-degree turns. The Shotover provides a wild experience skimming over thrashing rapids or planing in mere inches of water.
---
Dart River Safari (March 28 &29)
The Dart River Safari is more than a jet boat ride – it is a World Heritage eco-journey into the heart of the wilderness of New Zealand. Navigating deep into the alpine corridor of Mount Aspiring National Park, the challenging grandeur of the mountains and valleys will leave a lasting impression. Discover ice-capped mountains and glaciers, cascading waterfalls, and crystal clear streams and pools, all while enjoying the thrill of being aboard a purpose-built jet boat. (Transfer to Glenorchy 1 hour, Jet Boat Ride 2-2.5 hours, lunch included, and return transfer 1 hour.)
---
Whitewater Rafting (March 27)
While enjoying the rugged beauty and grandeur of the scenery, you will conquer one of two rivers: The Kawarau (a Grade 2-3 river) or the Shotover (Grade 3-5). The Kawarau is the largest river rafted commercially in New Zealand and is ideal for both first-time rafters and those with more experience. Stretches of quiet water allow ample time to practice paddling techniques, look at the scenery or get caught up in a friendly water fight.
---
ATV Off-Road Adventure (March 28)
On a fully automatic ATV Quad Bike, you will ride your way through exclusive off-road terrain and take in some of the most awesome, panoramic views Queenstown Hill has to offer. With full training on the bikes from experienced guides and all safety clothing provided, you can be assured of a safe and enjoyable Quad bike safari.
---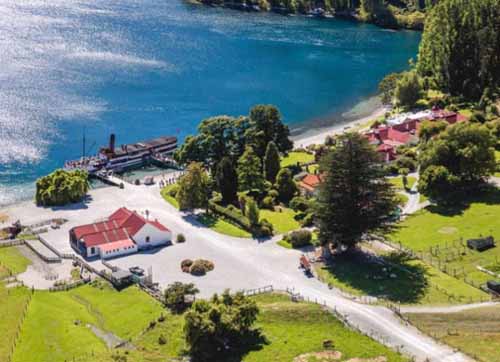 TSS Earnslaw and Walter Peak (March 29)
You will board the TSS Earnslaw, a restored vintage steamship from Queenstown. The adventure will begin with a lovely 40-minute cruise across Lake Wakatipu to the Walter Peak High Country Farm. On arrival, you will be greeted at Walter Peak by one of the local farmers There is an opportunity to view the farm's sheep, red deer and Scottish Highland cattle before moving to the Wool Shed to watch the farm show. The highlights of this farming experience are watching the farm demonstrator shear a sheep and the sheep dogs working stock.
---
Te Anua Glowworm Caves (March 29)
Visit the Te Anau Glowworm Caves – an underground network of limestone caves lit by hundreds of glowworms. In the darkness, they produce a glittering display. Carved out by the force of the river, the underground world is surprisingly beautiful with whirlpools and roaring waterfalls. Begin with a scenic cruise across Lake Te Anau and then our nature guides will take you in groups through the caves and then in a small boat into the grotto.
---
Golf at Millbrook
Millbrook's spectacular par 72 championship golf course, designed by New Zealand's renowned master golfer, Sir Bob Charles, is enjoyed by enthusiasts from all around the world. Set amidst a spectacular alpine amphitheater, strategic use of water and sand traps ensure exciting and demanding golf. The Millbrook course features impeccably groomed fairways and greens, demanding hazards and meandering water courses Surrounded by the alpine backdrop of the Remarkables Mountain Range, golf at Millbrook is an exhilarating experience.
Spa at Millbrook
Reveling in accolades which include an award, The Spa at Millbrook is a total well-being experience with leading-edge treatments designed for head-to-toe rejuvenation. Recognized as one of the finest spa facilities in New Zealand, The Spa at Millbrook provides a complete range of therapeutic and beauty treatments for men and women including body and massage therapies, facials, skincare, hair, and make-up.
---
Day 8, Transfer to Auckland, March 30
---
Auckland, March 31
Tour space is limited in Auckland. Please select your top three choices.
America's Cup Sailing – 30 max
This excursion provides the chance to experience a taste of the exhilaration by the prestigious America's Cup. Upon arrival to Auckland's Viaduct Basin, you will board the sailing yacht to take part in a fun and interactive day on the harbor. You will be given the opportunity to help sail this impressive vessel across the Waitemata Harbor for approximately two hours.
Auckland Bridge Climb -12 max
Scaling the Auckland Harbour Bridge is rewarding, educational and something a bit different. It's a fully-guided tour that will take you right to the top – giving you a 360-degree view of Auckland. With custom-engineered walkways, it's not only safe but exercise too.
Electric Bike Tour of Auckland – 6 max per session (9:00 am or 2:00 pm)
Enjoy cycling around Auckland without all the effort in the hilly city, on an electric bike tour. Listen to your guide's commentary as you cycle around the city and learn something new. Use of electric mountain bike, helmets, and headsets is included Suitable for cyclists of all levels of fitness – the electric bike does the work.
Duration of tour: 2.5 hours

Sea Tour of Auckland on Sea Kayaks – 6 max
Auckland Sea Kayaks provides exceptional sea kayaking experiences throughout the Hauraki Gulf Marine Park. Escape from the heart of the city and into wildlife, islands, and volcanos on New Zealand's most diverse sea kayaking adventure. Local guides encourage your confidence on the water, allowing you to be fully immersed in nature. Learn the untold stories/tales of Tāmaki Makarau (Auckland's Hauraki Gulf) shared by our passionate, dedicated, and expert kayak guides.
9 people max
Best of Auckland Walking Tour – 10 max
Discover top attractions in one of the North Island's most vibrant cities on this Auckland city highlights walking tour in New Zealand. Follow your guide from Aotea Square to famous sites such as the Waharoa Arch, the Civic Theater, Auckland Art Gallery and Kate Sheppard Memorial. Learn the trials and tribulations the city underwent on its transition from volcanic outcrop to the bustling, vibrant metropolis we see today. Stroll through leafy Albert Park to Vulcan Lane and admire traditional sculptures by native Maori tribespeople on the waterfront.
TRAVEL PROTECTION
For your convenience, Clyde Companies Inc. offers travel protection plans through Travelex Insurance Services to help protect you and your trip investment against the unexpected. The full coverage terms and details, including limitations and exclusions, are contained in the insurance policy. Travelex Insurance Services, Inc CA Agency License #0D10209. Travel Insurance is underwritten by Berkshire Hathaway Specialty Insurance Company, NAIC #22276.
---