Sunpro Rewards Scotland Schedule & Activities
SOLD OUT
734,000 points per person
Departing the US on August 28th and returning on returning on September 4, 2022
Edinburgh is Scotland's greenest city, with 49.2% of the city being made up of parks and green spaces – including the manicured Princes Street Gardens, nestled just underneath the castle dominating the city center and the impressive Holyrood National Park containing the extinct volcano of Arthur's Seat and offering stunning views of the city skyline.
Scotland's high latitude means that although winter days are short, in summer there are very long daylight hours and extended twilight. Sunrise: 05:00am* I Sunset: 9.30pm (Twilight extended to 10:30pm)* Average times given.
Weather in Scotland is famously unpredictable, and we generally suggest dressing in layers and being prepared for anything! Temperatures in August/September average 66 °F but can often rise to 75 °F.
We will embrace Scottish traditions for the Farewell Evening with a full kilt outfit rental for all gentlemen, with matching tartan sashes for ladies.
Kilt fitters will take guests' measurements on their first day in Edinburgh. Measurement takes under 1 minute. The kilts will be delivered to guests' rooms at Gleneagles on the day of their Farewell evening.
Kilt outfits for gentlemen are complete outfits comprising of kilt, jacket, waistcoat, shirt, socks, shoes, and accessories. Sashes for ladies are provided with a brooch and are to be worn over a gown.
The Balmoral – Edinburgh, Scotland
August 29 – September 1
The Balmoral Hotel, originally built as the North British (Railway Station) Hotel, is a luxury hotel and landmark in Edinburgh, Scotland. It is located in the heart of the city at the east end of Princes Street, the main shopping street beneath the Edinburgh Castle rock, and the southern edge of the New Town.
The Gleneagles Resort – Auchterarder, Scotland
September 1 – 4
An iconic country estate set beneath the beautiful Ochil Hills, The Gleneagles Hotel has been a luxury destination for nearly a century. Located just one hour from Glasgow and Edinburgh airports and with its own railway station, Gleneagles offers the perfect retreat for those looking for relaxation, fun and adventure. Three championship courses have established the resort's reputation as a golfer's paradise but the hotel offers so much more than golf.
---
Agenda and Activity Descriptions
Monday, August 29
Day 1: Welcome to Edinburgh
Arrive at the Balmoral Hotel. This evening Sunpro will host a private dinner at Balmoral Hotel
Tuesday, August 30
Day 2: Edinburgh Castle Tour and Highland Games at Winton Castle Tour
Private Pre-Opening Morning Tour of The Edinburgh Castle: Edinburgh Castle is one of the most exciting historic sites in Western Europe. Set in the heart of Scotland's dynamic capital city, this tour is sure to capture your imagination. The scenery will take your breath away.
Edinburgh Castle is known as the 'Jewel in Scotland's Crown' and stands like a noble sentry keeping watch over the city. Opened exclusively for a private pre- opening tour this is simply the best way to experience Edinburgh Castle.
This morning, all Sunpro guests can enjoy a private tour from 8:15 am including a viewing of the Scottish Crown Jewels whilst taking in the stunning skyline of Scotland's Capital City. Optional activities departing from the Castle at approximately 11 am.
Lunch: A delicious lunch using locally sourced ingredients will be served in the Castle's Dining Room.
Afternoon: Exclusively Sunpro's for the day, a historic stately tour of Winton Castle. Guests will experience what it is like to live like a Laird in this Scottish Renaissance castle, with history dating back more than 500 years. The Castle is still very much lived in and is home to the Ogilvy family. Enjoy all the fun and games of a traditional Highland Gathering with expert instructors, Scottish hospitality, and a whole lot of fun!
Evening: Dine Around in Edinburg
---
Wednesday, August 31
Day 3: Optional Activities
Royal Mile Walking Tour
Guides will lead small groups of guests on walking tours of the upper half of the Royal Mile, known as the Lawnmarket. It is no wonder that Edinburgh is a UNESCO World Heritage site, and The Royal Mile is a particular highlight, stretching from the Castle all the way down to the Palace of Holyroodhouse. It is the oldest part of the City and is characterised by high buildings, narrow closes and inner courtyards.
Learn about the city's history, architectural splendor, and museums, all pointed out by a guide as they explore the hidden treasures of this fascinating city.
---
Rosslyn Chapel
Only 30 minutes from the city centre, Rosslyn Chapel was founded in 1446 by Sir William St Clair, 3rd Prince of Orkney. The Chapel stands testament to the fascinating mind which conceived this extraordinary design. According to legend, the treasure of the fabled Knights Templar is stowed in a still-deeper vault whose entrance is sealed off by a stone wall.
Depending on whom you ask, that treasure could even be the Holy Grail. This legend was of course the premise for Dan Brown's The Da Vinci Code.
Rosslyn Chapel is a conspiracy theorist's playroom with walls and pillars adorned by symbols from Christianity, Nordic tradition, Judaism, and Masonic and even Egyptian influences throughout the elaborately carved stonework.
---
Guided Cycling Tour
Guest set off on a guided bike tour of Edinburgh, with easy, medium, and more challenging routes options. Whether exploring the city centre, or Edinburgh's excellent network of cycle paths, or taking a longer route to the north of the city along the coast, this is a lovely option for guests looking for a more active option.
Tours are offered with no more than 10 per guide, ensuring the best possible and experiences. Bikes and helmets provided, and there are a limited number of e-bikes available.
---
Volcanic Nature Hike "Ramble"
Arthur's Seat is Edinburgh's highest hill, visible for miles around. The rocky slopes and cliffs of Arthur's Seat and Salisbury Crags are part of Holyrood Park and provide a spectacular natural backdrop to the city.
An extinct volcano, its rocks give us some clues about what it was like in the past – there are sandstones formed in shallow seas and laid down by rivers, layers of volcanic ash created by many explosive eruptions of the ancient volcano, and lava flows representing quieter times.
Arthurs Seat and Holyrood Park hold a special place in the history of science. This is where James Hutton, the father of modern geology, first found evidence to support his theories about the workings of the Earth.
Enjoy a moderate hike to the summit of Arthur's Seat with a specialist who will point out interesting geological features, fascinating historical detail, and draw guests' attention to some of the native flora and fauna of the area.
And at the top, guests are treated to the very best view of the city of Edinburgh!
---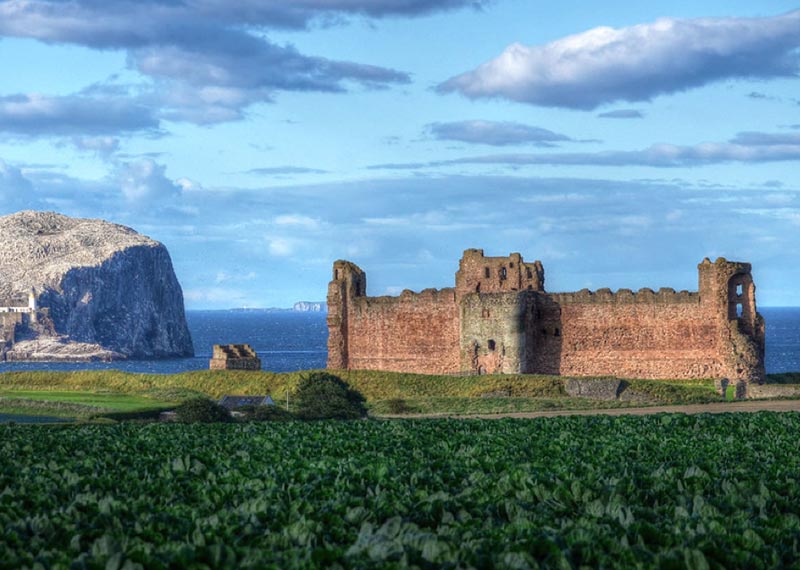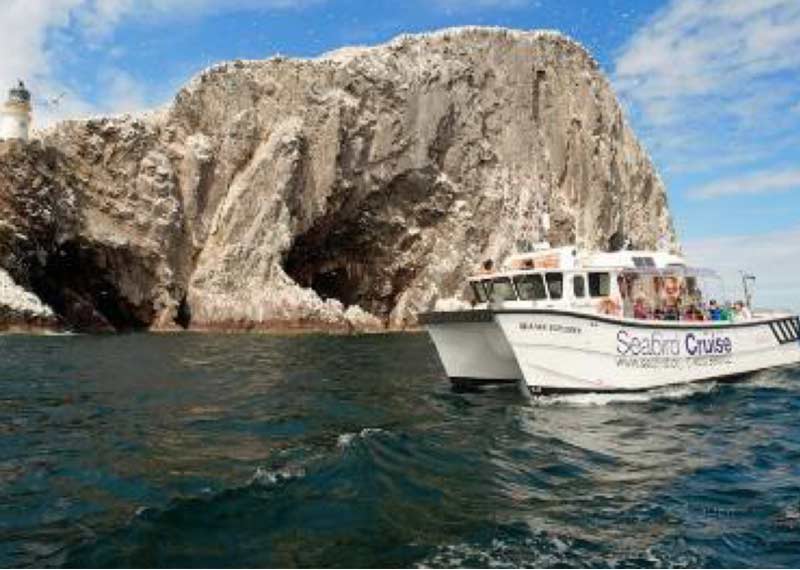 Wildlife Catamaran Cruise
A must for any nature-lovers or keen photographers. Take a custom-built catamaran from North Berwick's pretty harbour, only 40 minutes from Edinburgh, and journey out to Cragleith Island where guests can see Guillemots, Razorbills Kittiwakes, Cormorants and Shags, and if lucky, seals are also frequently spotted sleeping on the rocks.
Continue on to the Bass Rock which, from April each year, is home to the world's largest colony of gannets at the peak of the nesting season. See the gannets swoop and dive into the water at incredible speed.
Journey back towards the coastline for extraordinary views of the ruins of Tantallon Castle perched atop the sea cliffs, which by some accounts is the origin of the legend of King Arthur's Camelot.
Back on dry land, head to one of North Berwick's excellent eateries for fish and chips. Note: Timing is dependent on weather conditions and tide timetables, approximately 5 hours.
---
Golf in East Lothian
Boasting big-name Championship courses such as Muirfield, Gullane and North Berwick, these courses are within 45 minutes of Edinburgh – a golfer's dream
---
Evening Dinner: The Royal Yacht Brittania: A Floating Palace
She was HM, The Queen's home from home, sailing Royal Family for over 40 years and clocking in 1,000,000 miles around the world. Guests will enjoy a very special peek into the heart and soul of this most special of Royal residences. Gaining exclusive access to the Yacht, guests will board via the Royal Brow and begin their evening with a tour of the yacht, highlighting mementos from Britannia's seafaring past.
A gala dinner, service on the Royal Yacht Britannia is impeccable and kept to the high standards demanded by The Queen when she was in residence here. A sumptuous dinner in the State Dining room.
Thursday, September 1
Day 3: Transfer to Gleneagles
Private 4×4 Highland Adventure Ending at Gleneagles Hotel
This morning a fleet of 4×4 awaits you on the banks of the Loch Lomond to take you on a true adventure!
With charismatic kilted Adventure Guides, trained in off-road driving, climb aboard Land Rovers and journey through a land sculptured by the elements and steeped in history, culture, nature, and breath-taking views. Explore this stunning environment and engage with nature right in the Scottish wilderness.
Climb high onto one of the peaks overlooking Loch Lomond for mesmerizing views of this iconic Scottish National Park.
Lunch options include either a rustic hilltop picnic taking in the spectacular views, or a delicious seated lunch in an inn in the village of Luss.
The transfer time from Edinburgh to the starting point for the 4 x 4 adventure is 1 hour 30 minutes,
Thursday's tour ends with a transfer directly to the Gleneagles Resort directly in 4×4's where you will stay for 4 days and 3 nights.
Friday and Saturday, September 2-3
Day 4 & 5
Gleneagles Onsite Activities
The Gleneagles Resort boasts a huge range of country pursuits and activities. There is never a shortage of things to do, however active or relaxing a day a guest wishes to have.
With an on-site Falconry School, Gundog Training School, Shooting Lodge, 4×4 Off-Road course, Fishing, Tennis, Horse riding, and an award-winning Spa.
The House of Bruar is also home to the widest selection of pure cashmere in the UK. Nowhere else will you find such a rich selection of premium materials in both traditional Scottish and excitingly contemporary styles.
Not to be missed is the delicatessen and food hall stocking hand-picked gourmet delights from all over Scotland and beyond.
---
Specialty Shopping at House of Bruar
Known as 'The Harrods of the North', The House of Bruar, just one hour from Gleneagles, has established an unsurpassed reputation for itself as the pre-eminent Scottish country clothing provider in the UK.
Traditional heritage Tweeds and fine woollen coats stand alongside the latest cutting-edge offerings from Barbour, Musto and Aigle.
The House of Bruar is also home to the widest selection of pure cashmere in the UK. Nowhere else will you find such a rich selection of premium materials in both traditional Scottish and excitingly contemporary styles.
Not to be missed is the delicatessen and food hall stocking hand-picked gourmet delights from all over Scotland and beyond.
Glamis Castle & St Andrews
One of the prettiest castles in Scotland, Glamis Castle has been the family home of the Earls of Strathmore since 1372, when King Robert II (the first of the Stuart Kings) of Scotland gave the castle to Sir John Lyon. More recently, it was the childhood home of Her Majesty Queen Elizabeth, The Queen Mother and Her Royal Highness, The Princess Margaret was born here in 1930.
Mysterious legends of Macbeth and the ghostly apparitions connected to the Castle make for a fascinating visit. Guests will enjoy an exclusive private tour followed by refreshments in the atmospheric Laird's Chamber.
To follow, a short journey to St Andrews. Known the world over as the spiritual 'Home of Golf', St Andrews is a must-see when visiting Scotland. Aside from the rolling links courses, St Andrews offers a historic Castle and Cathedral dating from the 12th and 13th centuries respectively, Scotland's oldest university and a bustling town with an eclectic collection of shops, restaurants, and cafes.
Glasgow & Kelvingrove Art Gallery
Enjoy a panoramic tour of Glasgow by coach. Discover the history of the city from its early beginnings as a small provincial town to its emergence in the seventeenth and eighteenth centuries as a major trading port through to the nineteenth and early twentieth centuries.
With a booming cultural sector, Glasgow is renowned as a hub for artists and musicians, with the world-class prestigious School of Art having produced a number of art prize winners. The city also boasts a wonderful collection of art and artefacts in its numerous museums. Guides will regale guests with the history of this fascinating city and some of its most interesting inhabitants.
Spend the remainder of the day with a guided tour exploring two of Glasgow's Galleries. Kelvingrove Art Gallery and Museum opened in 1901 and is a firm favorite with local people and visitors. It houses in excess of 8,000 objects and holds the largest civic collections in the UK.
Highlights include fine works by Rembrandt, Van Gogh, Derian, Dali, Pissarro, and Turner hanging on the walls of the 22 galleries, which also includes a Mackintosh and Glasgow Style gallery.
Golf
Scotland is a golfer's paradise with a multitude of courses to choose from. Its distinctive geographical features originally made the game what it is today. The Links courses, which are so characteristic of Scotland, offer a challenge to the overseas visitor that is second to none.
For golf enthusiasts, we can arrange tee times at some of the golf courses in and around St Andrews, including Championship courses such as Carnoustie, Kingsbarns, and St Andrews New, Castle and Jubilee Courses.
Air Rifle Shooting
Precision, focus, and concentration. Knockdown reactive targets with high-powered air rifles in our purpose-built range, under the expert guidance of our professional instructors. Suitable for novices and experienced marksmen, individuals, and teams – a great option for a competition.
Archery
The ancient skill of archery needs poise, concentration and determination. Our skilled instructors will show your group how to hit the spot with our recurve target bows. Suitable for first-timers and experts, archery is also perfect for a team competition.
Clay Target Shooting
Focus, follow-though and fire. For anyone looking to try the thrilling sport of clay shooting, regardless of experience level, there is no better place to start your journey than the Gleneagles Shooting School, under expert tuition from our team of world-class shooting instructors.
Equestrian Riding Lessons
Coaching for every level and discipline – show jumping, cross country, dressage and trail rides.
Falconry
A truly unforgettable experience – enjoy a demonstration and then learn how to handle and fly our stunning birds of prey at the Gleneagles Falconry School. This is a unique way to get up close and personal with hawks, falcons and eagles. Enhance this experience by hunting for game (in season with a team of hawks, a truly unique experience up close to nature. You could even invite an eagle or arrange a demonstration on the lawns for your cocktail reception.
Fly Fishing
Learn the art of casting with a double-handed salmon fly rod, find out how to tie a salmon fly, hook a salmon and learn to read the river, all under the watchful eye of your dedicated ghillie. Enhance this experience with a delicious picnic hamper.
Gundogs
Gundogs have played a part in Scotland's shooting heritage for centuries. After an exciting demonstration, you will learn to handle one of our beautiful Labradors, with expert guidance from our instructors. Enhance this experience with a competition in the form of a gundog scurry or targeted retrieve. Or book a demonstration on the lawns for your cocktail reception.
Hiking (Guided)
With an abundance of breath-taking hill walks within easy reach of the hotel, immerse yourself in Perthshire's majestic scenery with local wildlife and steeped in history. We offer bespoke guided walking experiences, tailored to your fitness levels and capabilities. Enhance this experience with a delicious picnic lunch.
Horseback Trail Ride
Our beautiful heather-clad mountains are the perfect backdrop for a relaxing ride in the country. After a short assessment, set off in small groups to relish the beauty on horseback. Suitable for riders with English-style experience only.
Tennis Lessons
With four indoor courts and five outdoor courts, tennis is a great way to get your group moving. Depending on the level of experience we'll put together a tailored session that can either focus on skills improvement or team building, with coaching, games and plenty of play.
Tri-Target
Combines archery, clay target shooting, and air rifle shooting in the ultimate test of nerves and skill. Great for groups who want to explore their competitive side.
Zipline
See Gleneagles from another angle! After a short training session, your group will climb up to the top of the tree line, then come down the quick way with our exhilarating 100m zip wire. The team challenge includes activities like the Jacob's Ladder and Balance Posts.
Farewell Dinner at Stirling Castle
Time to show your professionally fitted full Kilt attire (rental) and Ladies with their Tartan Sash.
Scotland's Greatest Castle, Stirling Castle towers over the surrounding countryside in the heart of "Braveheart" country, it is linked with Mary Queen of Scots, William Wallace, and Robert the Bruce – just 25 minutes from Gleneagles.
---
TRAVEL PROTECTION
For your convenience, Clyde Companies Inc. offers travel protection plans through Travelex Insurance Services to help protect you and your trip investment against the unexpected. The full coverage terms and details, including limitations and exclusions, are contained in the insurance policy. Travelex Insurance Services, Inc CA Agency License #0D10209. Travel Insurance is underwritten by Berkshire Hathaway Specialty Insurance Company, NAIC #22276.
---