Offering the highest quality supplies in Utah for all your construction needs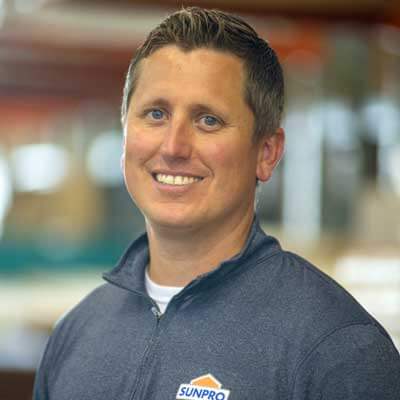 Need Help? Have a Professional Contact You
Our expert team is here to assist you with your project, with a fully equipped estimation team, service & design professionals, product experts, and customer service representatives.
Get Help
See Why Our Customers Choose to Work with Sunpro
Ence Homes
"With so many new communities and phases in the works, we have to make sure we have the best building materials available. Thanks to Sunpro, we never have to worry about the quality of their products. With the wide selection of doors, insulation, windows, and much more, Sunpro helps us build comfortable, quality homes."
Matt Stewart, VP
SGS Associates, Inc.
"Distilled down, business is built on relationships. We are not sure how Sunpro does it but they have somehow figured out how to get the best people. In construction, problems always come up. In Sunpro, we know we have a partner that is trustworthy, equitable, and fast in helping solve the issues that inevitably come up."
Jeannette Stimson
Visionary Homes
"Our company has worked with Sunpro for over a decade. The service is outstanding! Every Sunpro team member goes above and beyond to assist our trade partners with prompt product delivery in every aspect of the build process."
Cal Wadsworth
Ralph L. Wadsworth Construction
"Constructing 237 apartment units over the past 2 years, Sunpro has given us no heartburn whatsoever. In fact, they have excelled on all accounts. They actively participate in weekly coordination meetings, respond to schedule challenges and have a can-do attitude that is rarely seen. I recommend them highly to anyone looking for a partner to provide rough framing, interior trim and doors to a large commercial project."
Todd Hamel
VP of Construction
Holmes Homes
"Having worked with Sunpro for the last several years we have always found them to be responsive to our needs and fair in our business dealings with them. They have been great partners and continue to earn our business by being fair and competitive."
Scott Dent
R.C. Dent Construction, LLC
"As a custom home builder and family owned business, we strive to maintain relationships with good vendors and suppliers that are willing to be flexible and meet our needs. Sunpro has helped meet those needs on several fronts, from lumber to doors, insulation, and trim work. Sunpro has been great to work with and we look forward to working with them for many years to come."
Ryan Bowles
Superintendent
Construct Builders
"I've been exclusively working with Sunpro for years now. Their staff is the best in the business, and their pricing can't be beat."
Eric Balazs - President
Mountain Vista Development, Inc.
"Sunpro is a well managed company. They are a business partner that makes my profession easier. I have been doing business with them and many of their exceptional staff for 20 years. The are timely, competitive and innovative."
Scott Miner
President of Rimrock
"For the past 20+ years, Sunpro has been a key component to Rimrock's success. Their leadership, industry strength, and commitment to principle are shadowed only by their work ethic and effort to strive for excellence. Sunpro staff continuously work's hard to be responsive and accurate in all that they do. It has been our experience to witness firsthand Sunpro's ability to control and manage multiple projects, understand and control costs, and accomplish tasks thoroughly and thoughtfully."
Jared Higgins
Co-Owner
Landmarks West
"Sunpro has been a great partner in the industry and has been a key part out our success. We truly value our relationship and look forward to great things in the future. "
Dennis Garr, Owner
Dennis Garr Construction
"Sunpro has been a great partner for many years. I have been very pleased with the quality of the materials they have delivered to my jobs. Sunpro keeps up on the building market, so I get the best competitive pricing available. The quality of the general management is amazing! My salesmen, the yard foremen and workers, door shop, truck drivers, and the store staff, are all second to none. I appreciate how friendly and knowledgeable they are. Everyone goes out of their way to help me succeed in my business. It's nice to know you have people like this you can always count on. Thank you Sunpro!
David Frandsen
Neighborhood Non-Profit
"The Sunpro team is truly committed to helping us succeed. They provide excellent service every day by making our needs their priority. They are partners who genuinely care about our success and go the extra mile to help make this happen.
Call or visit us at one of our many locations and let's get started on your next project.
Call (801) 222-3300